Our Goals
Grieg Lodge Leikarringen strives to preserve, teach, and promote traditional Scandinavian folkdancing at all ages and all ability levels. Members learn and carry on the tradition of group dancing, couple dancing, and community songdances.

History of our Leikarringen
Grieg Lodge Leikarringen was founded in 1934. It is the first and oldest leikarringen in the Portland Metro area. We have danced before Norwegian royalty, at the World's Fair, at various celebrations around Oregon, and at the Oregon State Fair.


Our Officers
David Champion is the Grieg Lodge Youth Director, and our liason to the board. He is also the Youth Group Coordinator for All Saints' Episcopal Church in Portland, OR.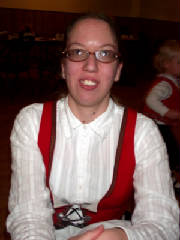 Karen Thompson is the Leikarringen Director. She has been involved in Scandinavian dancing since she was four years old. She is also the Norwegian language teacher for Grieg Lodge. You can find more information about her
here
.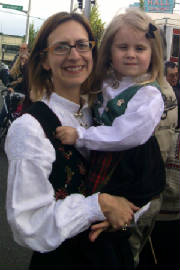 Wendy Mudd is a school teacher and parent. She was in Leikarringen as a girl, and loved it so much that she is one of our assistant teachers now. Her girls dance in our group as well.